What is the life cycle of a climate project? 
What is the life cycle of a climate project?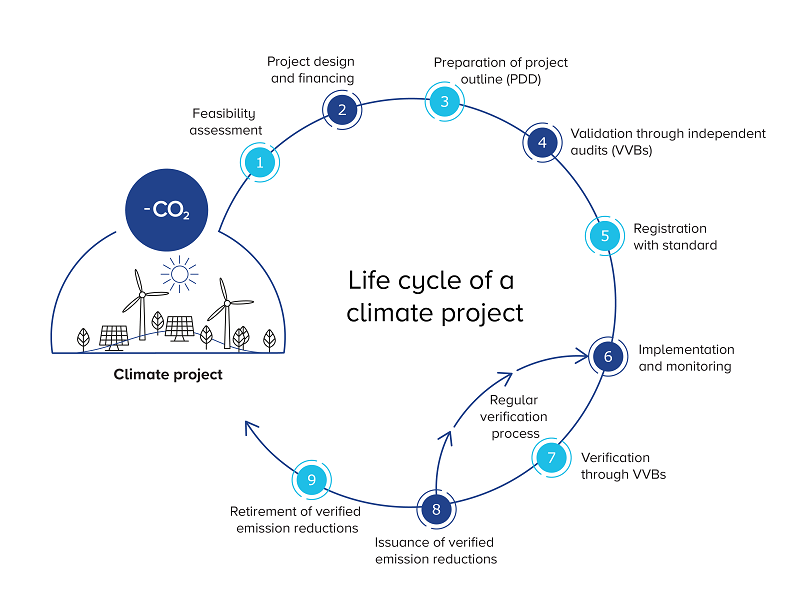 Project planning phase (1-3)  
A climate project has a defined life cycle. In the first two steps, the project developer reviews the general feasibility of the project, the project design and the financing. Then, the so-called Project Design Document (PDD) is prepared, which contains all the basic information about the project, such as the project objective, the location, when the project is to be implemented, and the project duration. 
Validation (4)  
In the next step, the PDD and the information it contains are validated through independent audits. These accredited, neutral auditors must be approved by the standard's registry as a Validation and Verification Body (VVB). Examples include TÜV North/South, S&A Carbon LLC. or SCS Global Services.  
Registration (5)  
After successful validation, the project can be registered with the standard, such as the Verified Carbon Standard or the Gold Standard.  
More information about project standards.
Monitoring (6)  
After the project has been registered, the monitoring phase begins. Here, the project developers monitor and document the data of the project activities and progress. The duration of the monitoring phase varies from project to project and can be one to five years.  
Verification (7) 
At the end of each monitoring phase, a VVB checks and assesses whether the values and project activities stated in the monitoring report are correct and verifies them. 
Issuance of verified emission reductions (8)  
The emission reductions achieved in the latest monitoring period can be issued ex-post as verified emission reductions after successful verification. They thus represent the emission savings that actually took place in the past period, which can be one to five years.  
The steps of monitoring, project verification and issuance of verified emission reductions are repeated regularly and are thus to be considered as a cycle.  
Retirement of verified emission reductions (9)  
After a verified emission reduction has been used, it needs to be retired in the respective registry (e.g., Gold Standard or Verra). This ensures that each verified emission reduction is only used once. When an offset is booked via ClimatePartner, the verified emission reductions are collectively retired periodically. The retirement process at ClimatePartner is regularly audited by TÜV Austria.