Take climate action by developing a climate project with ClimatePartner Impact
Developing a climate project in cooperation with ClimatePartner Impact allows companies to secure price stability and reliable volumes of verified emission reductions in a market with rising demand and to have complete control over the entire project lifecycle for their voluntary emission reductions or removals. It is a unique possibility to be involved first-hand in the development of a climate project, define the social impact the project will have in accordance with the United Nations 17 Sustainable Development Goals and share the story of your project with your stakeholders. A company's own climate project is a valuable pillar in a Corporate Social Responsibility (CSR) strategy and enables them to take real climate action as one element of their climate action strategy.
Since the voluntary carbon market (VCM) has been growing rapidly in the past few years, high-quality Verified Emission Reductions (VERs) are in increasing demand, leading to higher prices. In addition, market participants are becoming increasingly aware that only climate projects with strong environmental and social impact are fit-for-purpose to meet growing public expectations and environmental challenges.
With over 15 years of valuable experience in the VCM ClimatePartner Impact supports customers along the whole project development value chain from initial design to registry and portfolio management. As a subsidiary of ClimatePartner, ClimatePartner Impact provides climate project development and attractive carbon finance and impact investing opportunities.
Why develop a project with ClimatePartner Impact?
ClimatePartner Impact offers climate projects in different regions and with different technologies and standards. The additional social benefits of the projects are particularly important to us.
High-quality climate projects require seamless implementation and transparent handling. With our deep technical knowledge, local networks, worldwide project proponents, and a dynamic suite of project options, ClimatePartner Impact's services encompass all aspects of the project lifecycle – from start to finish.
With ClimatePartner Impact companies can jointly develop climate projects to secure verified emission reductions at stable prices, for their own voluntary emission reductions.
Our services include:
ClimatePartner Impact proprietary approach to Due Diligence and KYC process implemented for all project options
Dedicated Risk Management team
Preparation and handling of Project Design Documents (PDD) and Validation audit
Management of ongoing project activities
Documentation of the Monitoring Reports and Milestones
Remote-sensing, modelling expertise and regular analysis of current and future VCM developments
State-of-the-art portfolio management
Management of regular verifications and carbon credit issuances
Management of registry accounts in Verified Carbon Standard (VCS) or the Gold Standard (GS)
Efficient and TÜV Austria certified credit handling process – from buying to retirement.
What project development at ClimatePartner Impact looks like
Spekboom: Restoring a biodiverse thicket ecosystem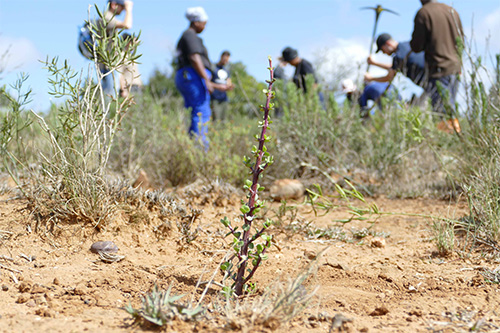 Subtropical thicket is renowned for its outstanding biodiversity, with 1,588 plant species. One of the native keystone species on the Eastern Cape in South Africa is Spekboom, a small succulent tree. Spekboom is highly effective to catalyse thicket restoration through regenerating soils and stimulating biodiversity. It also has a high potential for rapid and permanent carbon removal and is tolerant of drought and rocky soils.
The Eastern Cape landscape has suffered from extreme degradation due to intensive agriculture and extended drought periods. This has severely reduced the range of the native thicket ecosystem. ClimatePartner Impact has already started thicket reforestation and is planting 2.5 million new Spekboom plantlets on more than 1,000 hectares over a three-year period. Continuous monitoring and protection will make sure the landscape is restored into a biodiverse thicket ecosystem. In addition, the project creates vital employment opportunities for local communities and townships in an area with South Africa's highest unemployment rates.
Get more information about our Spekboom project in South Africa here and read about the impressions from the recent field work of our colleagues here on the blog.
Your interest in developing a climate project with ClimatePartner Impact can be registered via our contact form below.