Adapting our forests to climate change
With our tree plantings in Germany and other European countries, we are strengthening our native forests and converting them into climate change-resilient mixed forests. The future of these forests is secured by planting tree species that are better adapted to the specific locations and the future climate.
How can you join our tree planting events?
Would you like to support tree planting and maybe even lend a hand yourself? You can contribute to tree planting as part of a combined project. Combined projects involve two projects: an international, certified climate project alongside an additional initiative such as tree planting in Europe. In concrete terms, this means that for every tonne of carbon saved through your contribution to the climate project, we plant one tree as part of forest restoration efforts.
Once a year, we invite all our combined project contributors to take part in a day of tree planting. Experts explain the procedure before each person plants about 10 or 15 trees.
Our tree planting activities represent an additional, local commitment to climate action and do not produce verified emission reductions. This is why we combine your financial contribution to tree planting with a certified climate project.
The positive impacts of healthy forests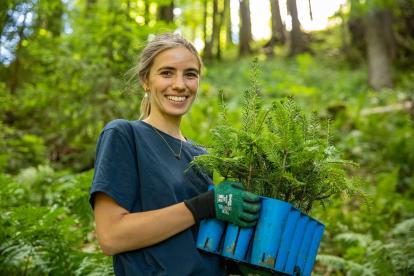 The necessity of future-proofing our forests
The consequences of climate change are also noticeable in our native forests: the increase in weather extremes such as heat, prolonged drought, and storms pose a major threat to existing forested areas. Some tree species typically grow shallower roots and cannot reach the deeper layers of soil that provide the only source of water during long dry periods. These stress factors make the weakened trees particularly vulnerable to pests such as bark beetles. It is therefore important to convert our forests into climate-resilient mixed forests.
More information about our tree plantings
Our fact sheet provides you with even more information on our tree planting projects in the DACH region. Learn about the locations where we plant trees, how we choose the right tree species, and how the projects contribute to the United Nations' Sustainable Development Goals (SDGs).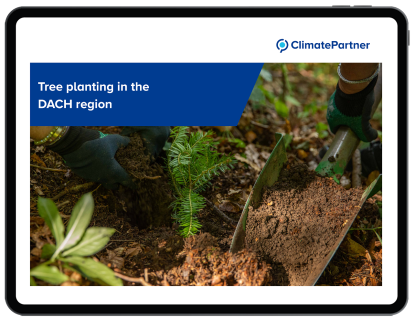 Do you have any questions or are you interested in supporting tree planting as part of a combined project?Contact us