Climate Action Insights: How can the financial world become more sustainable?
August 25, 2021

What data is needed for a green financial world?
A Climate Action Insights article by Julia Bewerunge, leading the sustainable finance development at ClimatePartner
Current and upcoming regulations, international standards as well as an increased climate-awareness and a sharpened public focus have been driving the finance industry towards sustainability, decarbonisation and net zero. What kind of options do asset managers, insurers, or banks have for climate friendly investment strategies and product development within the current frameworks such as Science Based Targets, Greenhouse Gas Protocol and others that meet sustainability requirements and also enable them to differentiate themselves from the status quo?
It starts with data availability
Access to reliable carbon data is currently one of the big questions in the finance industry. Especially approaches to project finance, for instance for loans, or to small and medium businesses (SMEs) are often underrepresented in the typical ESG databases. At ClimatePartner, we have been working with SMEs since our beginning in 2006 and have developed and mastered sector specific approaches for carbon data analyses and for carbon neutral products to various company types, resulting in a vast set of specific carbon expertise and data
Private Equity Investors can use them by working directly with us and their investees. While estimations have been a constant companion of emissions data, we are first and foremost striving towards delivering the details behind every Scope of carbon output. Therefore, in addition to conventional considerations, we can also offer models with more precise data.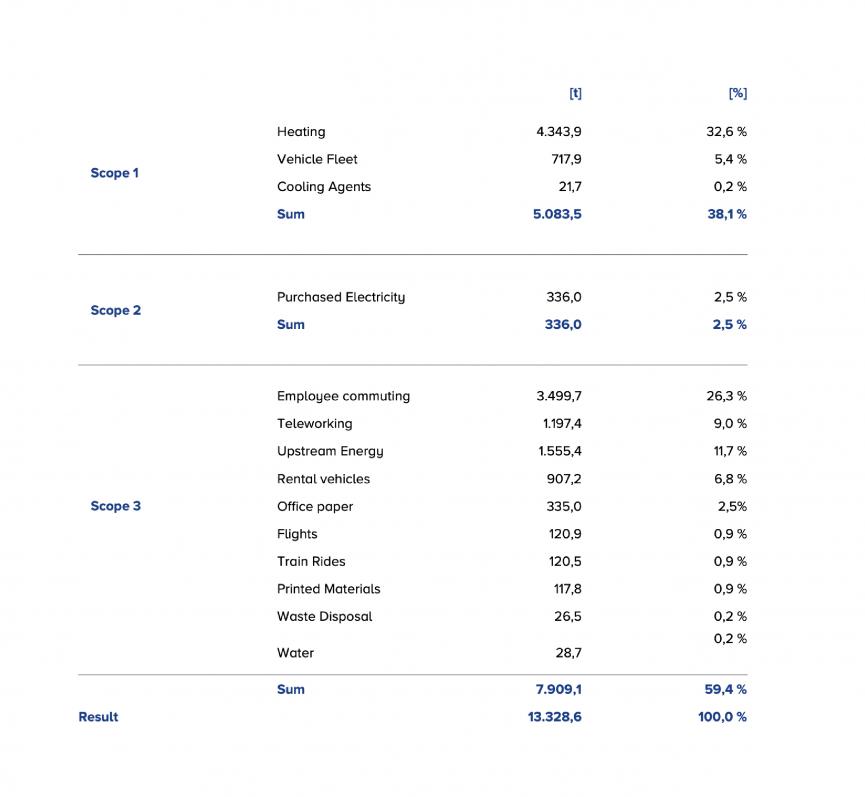 The exemplary CCF of a financial services company.
Carbon footprinting and carbon neutrality – the basis of climate action
The product portfolio at ClimatePartner ranges from carbon calculations to certification of emission levels for investors to support on the way to carbon neutrality. The last can be shown externally with our "carbon neutral" label.
At ClimatePartner, we believe that the first step towards successful climate action is calculating the emissions of a company and their products, such as saving accounts, portfolios, or loans. Financial institutions such as insurers, banks, investors and their investees work closely with us to identify their emissions status and set up strategies for future reductions and offsets. For our calculations, we are aligned with current standards such as the GHG Protocol. On individual request, we look at additional norms, for example the ISO 14068 certification or others.
With our analysis, we offer insights into all scopes of emissions based on our calculations. Looking into Scope 1, we establish the amount of direct emission that are caused by the company facilities. With Scope 2, we count the emissions from indirect purchased energy. The 15 categories in Scope 3 give insights into the upstream and downstream activities and their emissions, for instance from business travel or investments.

Scope1, 2 and 3 at a glance - together they add up to the total emissions of a company.
Data provision and evaluation
With the help of our proven cross-industry solution Footprint Manager, we can provide insights into an increasing number of financial products. For our private equity clients, we provide an emissions platform for every individual investee that is linked to all results for the investor. We assist with the data collection and analyze the whole portfolio based on the actual values of employee commute, waste management or materials. The final overview offers investors insights into Scope 1 to 3 and the underlying sections. With our emissions report, we offer data sheets that are along current financial standards for portfolio analysis. Thereby, we enable investors to engage effectively by starting the dialogue with their investees about the main sources of the emissions and possible reductions and offsets (see picture 3 with green financial products).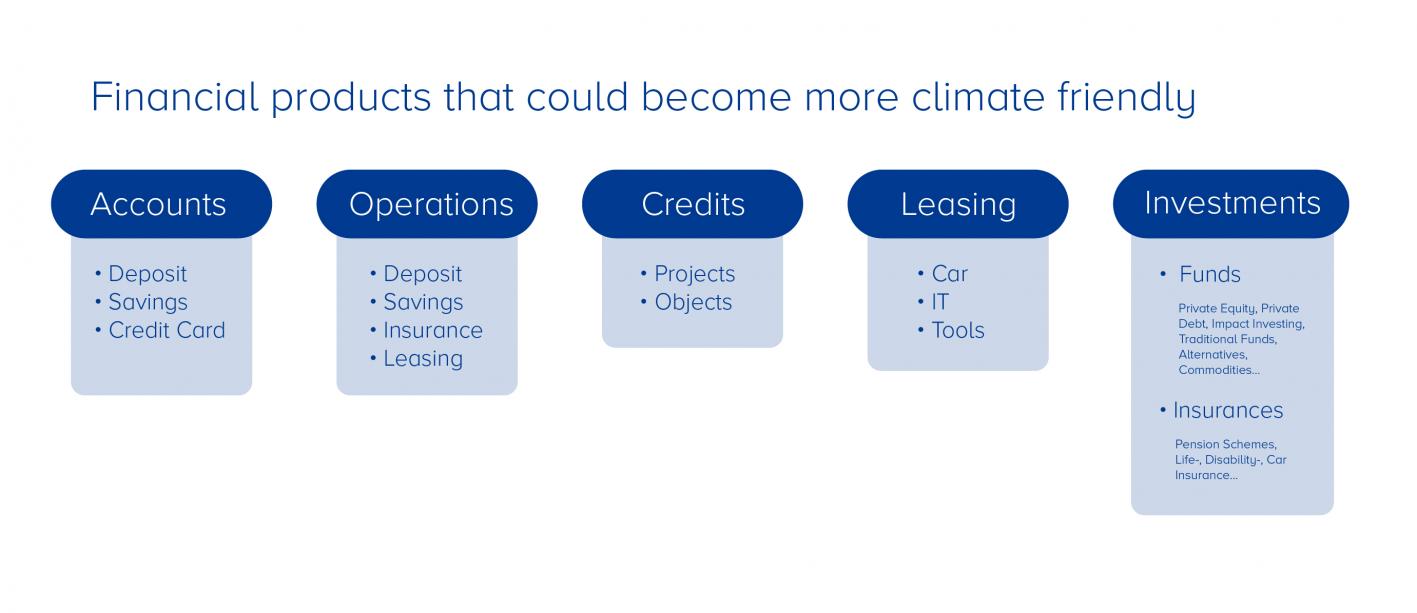 Green financial products.
Green products can be created along the whole financial services (FS) range. Our green savings account model for carbon neutrally operated accounts  enables banks to meet customer demands for climate friendly finance. With our tools, they have access to the analysis of their operational emission per account and match it with the yearly emissions of the client. By reducing their own emissions, recommending further climate friendly steps to their customer base, and offsetting the emissions that cannot be reduced yet, banks contribute to a more sustainable world.
Standard FS products such as leasing can also be translated into a sustainable model. Both operations and the leased object can be analyzed. This calculation can be used to adapt the conditions of the financing agreement to incentivize the use of environmentally friendly objects. Additionally, during the leasing, the emissions of the object can be offset per client, offering them a climate-friendly leasing alternative.
Carbon avoidance and reduction – the aim of every climate action strategy
Besides creating dedicated climate friendly products, companies have many options to lower their emissions. Five possible steps are:
Cut travel and switch to sustainable energy

Switch to sustainable business partners

Climate friendly portfolio strategy and engagement

Green criteria for lending processes

Measure spending emissions for clients' information and offset
ClimatePartner is constantly developing new approaches for green finance products, widening our product range. By having an eye on the current and upcoming standards, listening to our client needs and leveraging our 15 years expertise and know-how, we help shaping a sustainable finance path. Let us know if you would like to try out a new approach.