Sustainable finance
The role of finance in climate action: how can the sector become agents of change?
Climate action and the role of the financial sector 
The global economy is facing the urgent need to take a lead in climate action, and through things like insurance policies, loans and investments, the financial sector can be greatly influential in moving resources in a more sustainable direction. 
Financial institutions are guided by statutory regulations such as the EU taxonomy and ESG and CSR regulations. The rising level of climate awareness among consumers and the public at large is creating critical pressure for change.
ClimatePartner helps businesses in the financial sector develop complete climate action strategies and provides a range of solutions that cover every aspect of dealing with emissions. We calculate emissions, prepare a carbon footprint and certify the emissions for use in connection with investments. From this carbon footprint, we work together to derive strategies to reduce and offset emissions in the future, and guide companies as they strive to become carbon neutral. The 'carbon neutral' label from ClimatePartner is a transparent testament to this status.  
ClimatePartner assists financial institutions in their climate action journey
ClimatePartner has been providing tailored climate action solutions for companies since 2006. Our financial services team has years of experience in sustainable finance as well as sector-specific products such as carbon neutral private equity portfolios, accounts and insurance policies – including with small and medium-sized enterprises (SMEs). We help insurers, banks, fintechs, asset managers and their investment companies become carbon neutral , calculate their emissions and support with setting reduction targets. To do this, we consider current standards such as the GHG Protocol, as well as optional additional frameworks such as the Science-based Targets initiative.  
An overview of our range of services for the financial and insurance sectors: 
Advice on a complete ESG and/or climate action strategy
Calculation of your company's carbon footprint
Custom, industry-specific solutions for the development of carbon-neutral products 
Carbon offsetting for your emissions: we maintain a selection of carbon offset projects which meet the strictest international standards (including the Gold Standard) 
TÜV-certified offsetting process (by TÜV Austria, which specialises in environmental matters) 
A label for transparency in carbon neutral products, services, and companies
Active communication and marketing with zero compromises on transparency  
We look forward to your enquiry. 
Our solutions for the financial sector
Environmentally friendly investments
Information about the CO2 emissions of assets makes it clear to shareholders how investments can have a long-term effect on the market economy. However, it is often a challenge to collect reliable emissions data. ClimatePartner provides a cross-sector software solution to assist with data collection and portfolio analysis on the basis of actual emission values. All relevant information for every single equity investment company is presented transparently on an emission platform, where it can be used to make sound investment decisions.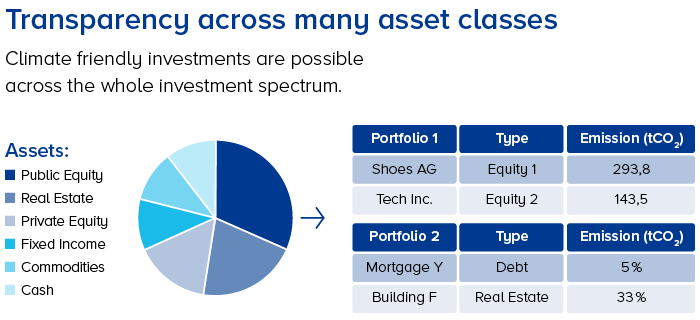 Carbon-neutral current account management
The management, operation and use of a current account also causes emissions. You can calculate the account's emissions over its entire life cycle with ClimatePartner. On the basis of this information, CO2 emissions can be reduced and offset via support for carbon offset projects in order to render the account carbon neutral.

Leasing services
Using the emissions of the entire value chain, ClimatePartner can calculate the carbon footprint of leased or financed assets. This enables lessors to adjust the conditions of finance contracts and offer incentives to use environmentally friendly assets. Moreover, the calculations can help ensure that leases are carbon neutral by means of emission offsetting.
Strategic lending to reduce emissions
Lenders have a variety of ways to offer incentives for loans to be used in a sustainable, environmentally friendly way. For example, the interest rate can be linked to reduction targets (these are known as sustainability-linked loans; see diagram). Additionally, ClimatePartner can calculate the carbon footprint of the borrower and outline potential reduction measures. If lenders accomplish these goals within a contractually agreed time frame, the borrower enjoys a lower interest rate. If the borrower should fail to achieve the reduction, the full interest rate must be paid and the lender donates the difference to carbon offset projects.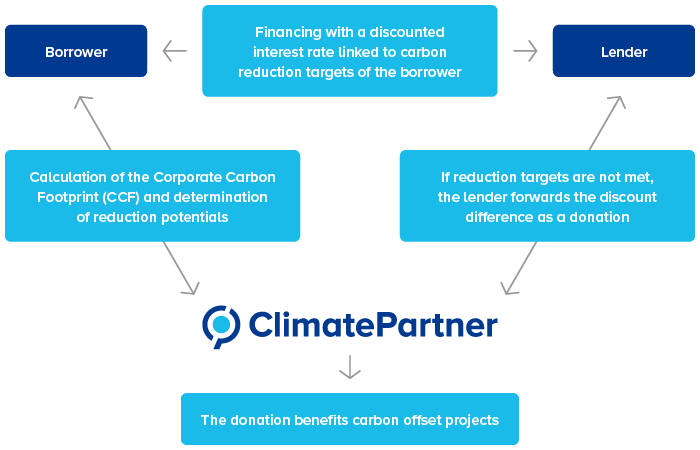 More about climate action in finance