Available, reliable, and comparable – emissions data for a sustainable supply chain
October 18, 2021

What makes a supply chain sustainable?
By Katrin Bolkart and Lotte Schmidt, Customer Management ClimatePartner
In many industrialised countries, the pressure is growing on companies to manage and take control of the CO2 emissions of their supply chains. The goal is to reduce emissions and offset unabated emissions across all stages of production to achieve net zero. What requirements do companies have to prepare for?
The initiatives aiming to change things for the better in the vast, complex networks of international supply chains and supplier relationships – be it the protection of human rights, fair working conditions, or environmental and climate action – have largely been voluntary up to this point. For this reason, companies are to be forced by law to take more responsibility for social and ecological issues along their supply chains.
In Germany, for example, this will be put into practice by the Supply Chain Due Diligence Act (so called Lieferkettensorgfaltspflichtgesetz). It will apply to companies that have more than 3,000 employees and are headquartered in Germany from 2023. From 2024 it will expand in scope to companies with more than 1,000 employees. One major aspect will be how CO2 emissions are handled. It remains to be seen whether the act will be able to set the necessary wheels in motion. However, one thing is certain: moving towards a sustainable supply chain should be on every company's agenda.
Sustainability in supply chains is defined by the UN Global Compact as the 'management of ecological, social and economic effects (...) throughout the life cycle of products and services'. The upcoming supply chain legislation focuses primarily on social sustainability. It considers the environment and climate action exclusively in terms of social aspects such as groundwater contamination. However, emissions that are attributable to raw materials, transport, packaging, and similar factors are left out by the act.
This is exactly where companies can start and take their first steps towards a sustainable supply chain. By gaining transparent insights into their emissions sources and determining the largest drivers of emissions, they can begin to identify the most urgent fields of action and implement more extensive measures. As such, it would be a step in the right direction if the German legislation were to take this into account in the future. Until that happens, we have to depend on companies taking voluntary action to shoulder this part of their responsibility.
CDP: Supply chains are responsible for the majority of emissions
In its Global Supply Chain Report 2019/20, the CDP evaluated the responses from over 6,800 suppliers in the climate change category. According to its report, these companies are responsible for around 8 billion tonnes of greenhouse gases each year (Scopes 1 and 2). At the same time, however, it notes that 563 million tonnes of greenhouse gases have been saved thanks to a wide range of measures including improved energy efficiency and reduced process emissions.
Although supply chains cause a lot of emissions, they also promise great potential for reduction that all parties involved can tap into if they work together. If, for example, we look at the food and fashion industries, the upstream chains are key in terms of the origins of materials, as well as their routes of transport and delivery.
Take the first step: comparability of carbon data
Many stages of the value chain are beyond a company's control and have a wide range of effects. This is where the first hurdles can be found: although international standards provide accounting guidelines and methods for emissions data (such as the Greenhouse Gas Protocol), the internal requirements of suppliers vary widely. As is very often the case, data come in various formats and volumes, and the quality varies from region to region and even from site to site. There can be significant variations in data quality even within a single company. Consequently, a company is often limited in its goal of uniform accounting
It is precisely these hurdles that need to be overcome and data on environmental effects and emissions made available, processed and comparable. Questions that might offer some initial guidance include: 
What emission factors can be used to quantify greenhouse gas emissions?

How do companies keep evidence of their emissions and document reduction or avoidance measures?

Have the same standards and system boundaries been used to measure emissions?
Data has to be comparable for accounting to be consistent and measures to then be derived. Only by achieving comparability can a company draw up and identify potential ways to reduce or avoid emissions on a common basis.
Before comparability becomes a consideration, however, the CO2 data has to be available. For this reason, it is necessary to collect and prepare the data using a reliable method. However, a study conducted by the Handelsblatt Research Institute for the German Federal Ministry for Economic Cooperation and Development (BMZ) shows that only around 17 per cent of German companies have information about the emissions and climate action of their direct suppliers. Although companies are supposed to publish this kind of information, it cannot be done in most cases without benchmarks or estimates for now.
On their way to climate neutrality: interaction between companies and their suppliers
If suppliers manage to achieve carbon neutrality for themselves and/or their products, this has a direct effect on the Scope 3 emissions of the companies who purchase from them and contributes to minimising their upstream carbon footprint.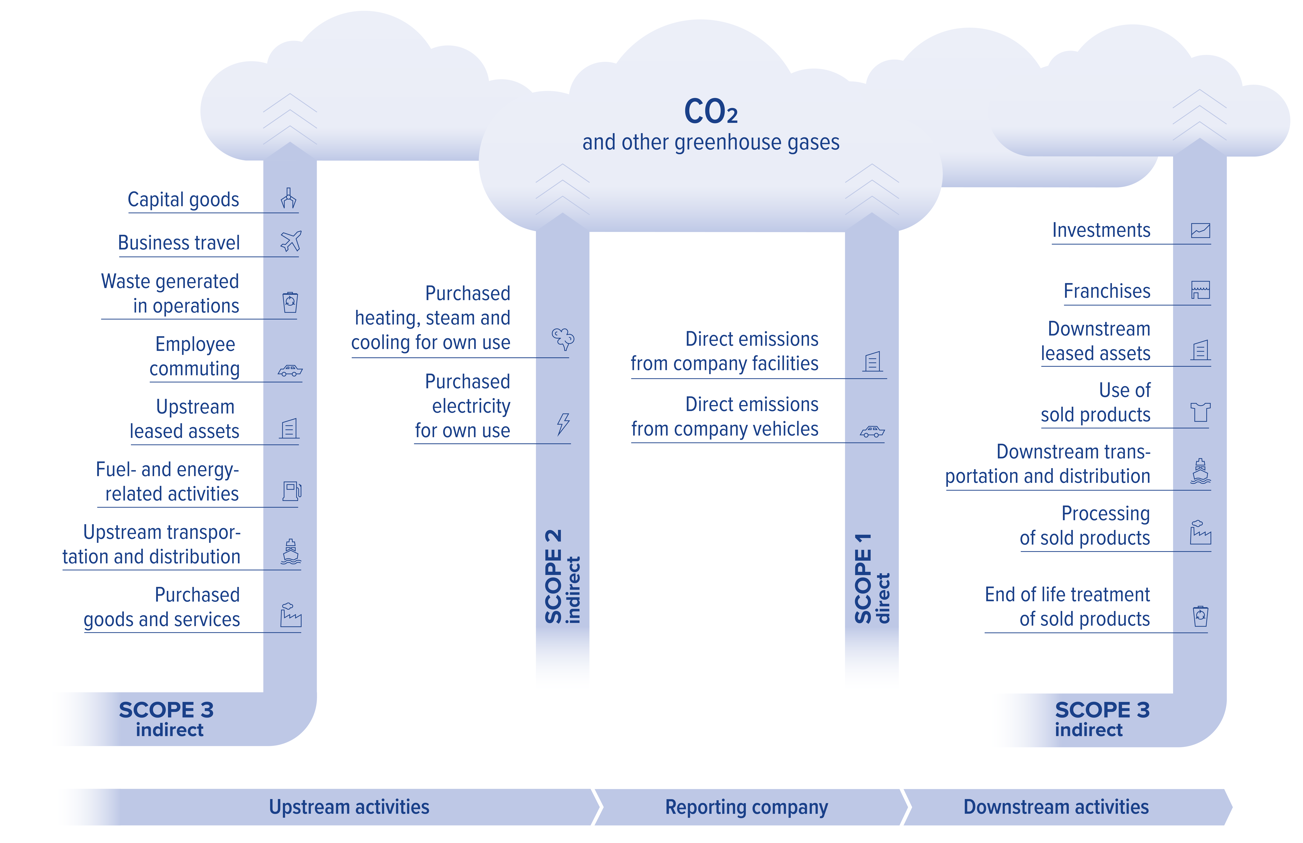 Emissions are divided into three different scopes. Scope 3 includes all indirect emissions caused by supply chains.
Besides diverse contractually defined measures and requirements, companies can help their suppliers strive to become more sustainable and carbon neutral in the following ways:
Increase the proportion of primary data

: The proportion of primary data can be increased gradually over the years by strategically training and educating suppliers. This makes the supply chain even more transparent, and the company can measure its own Scope 3 emissions with greater accuracy.

Use common platforms

: Platforms help collate a wide range of data formats in one place and make them available to all users.

Set up a monitoring process

: With a uniform monitoring and management system, companies can implement reduction measures more effectively and take advantage of synergies in the supply chain.

Raise supplier awareness

: Defining responsibilities, forming teams, offering training, and providing the necessary tools are just some of the ways to enable a supplier to build up its expertise and processes, as well as raising its awareness.

Encourage a dialogue

: Obtaining supplier-specific feedback and encouraging dialogue between each industry allows for continuous improvement and joint progress towards a more sustainable supply chain, more sustainable companies, and a more sustainable industrial sector.

Conduct regular comparative studies

: Industry-specific and cross-industry benchmarks shine a light on market positioning and the direction a common climate action strategy must take.
Companies that make their supply chains more sustainable enjoy several advantages: besides a positive image, they can secure a supply of materials, support innovation, and strengthen relationships both with suppliers and as employers. A sustainable supply chain encourages value creation and success.
Facing challenges
Various standards have become established in the context of a sustainable supply chain and serve as a basis for measuring, reporting, and identifying measures. Companies can lose track quickly here and lose themselves in the complex landscape. Even Scope 3 emissions – which include supply chain activities – are plagued by uncertainties that leave definitions in a grey area when it comes to interpretation (reliability).
However, companies must have an acute knowledge of their supply chains if they are to accomplish comprehensive carbon neutrality that also includes their supply chains. For CO2 reduction, it is essential to identify emissions drivers and derive specific measures from them. Only then can companies reduce emissions both sustainably and permanently and make a concerted contribution to combating climate change.