How climate-friendly labels influence consumers' shopping habits
November 9, 2022

Climate-friendly labels play a key role for consumers while shopping. This is one finding that came out of our representative consumer survey that was conducted in ten countries in June 2022.
A summary of all findings around consumer attitudes towards corporate climate action can be found in our Climate Action Awareness Report. It gives insights on questions like:
How important is climate change to consumers?

How do climate-friendly labels help them in their daily lives?

What do they expect from companies regarding climate action?
The key takeaways: companies need to act and communicate their climate action initiatives transparently. A climate-friendly label is an excellent way for a company to disclose its climate action efforts.
Below you can find our key results on the importance of climate-friendly labels, how they influence consumers' shopping habits, and what messages they send to consumers.
Read the full report and find out more about consumer attitudes toward corporate climate action.
Consumers care about and look for climate-friendly labels 
60% of respondents stated that a climate-friendly label is important or a top priority to them when shopping. Consumers in Spain and Italy pay particular attention to labels, with 76% and 72% respectively.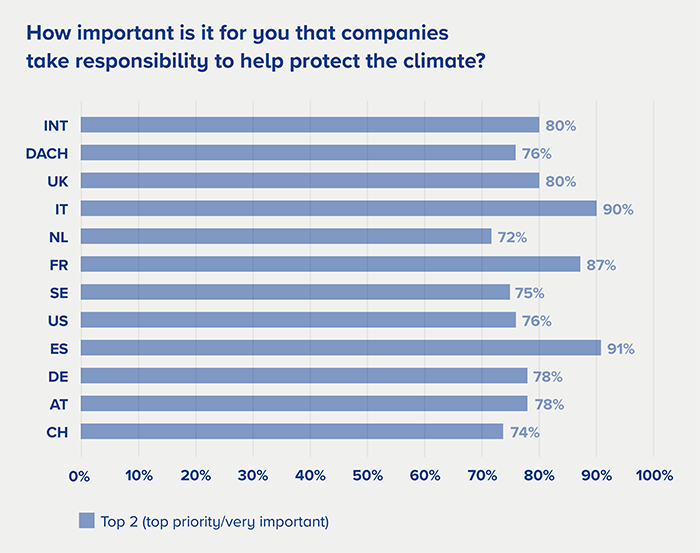 More than one-third (38%) of surveyed consumers mostly or always search for a climate-friendly label or product. Especially the younger generations (Y and Z) are more inclined to look for a climate-friendly label on a product.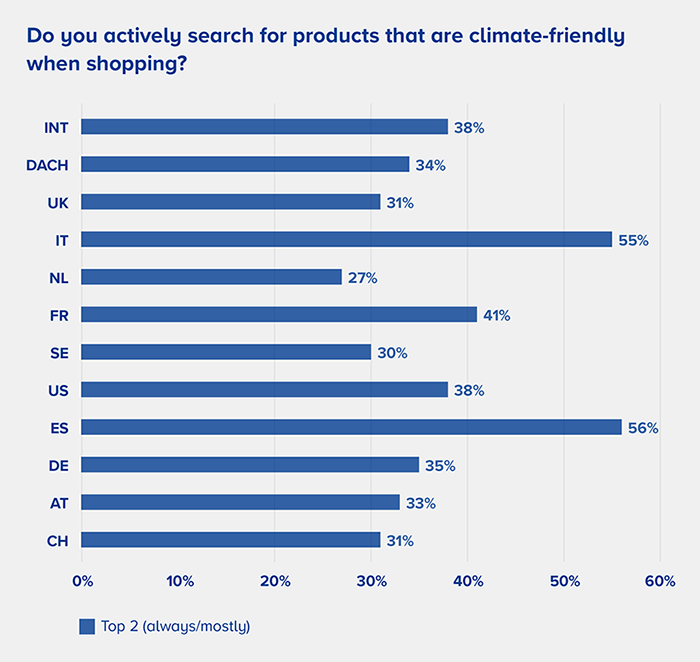 Climate-friendly labels influence shopping habits 
For more than half of the respondents (51%), a climate-friendly label most likely or definitely influences their purchasing decisions.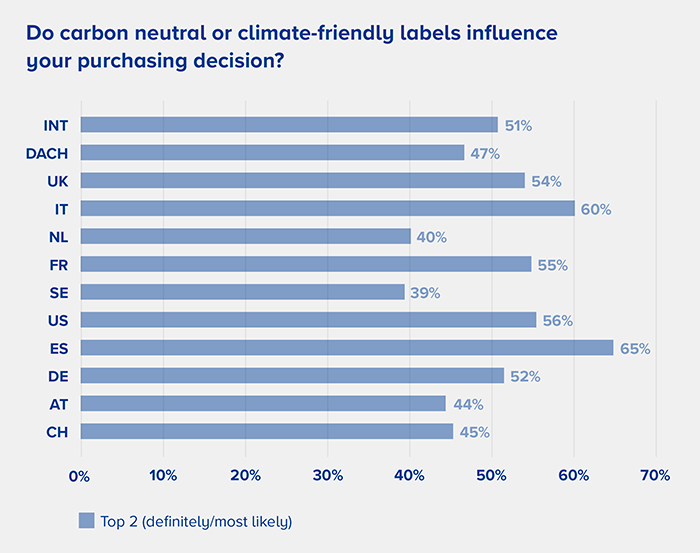 45% of respondents would like to better understand the concept of carbon neutrality. Once provided with the information that a label confirms that the residual CO2-emissions of a product have been offset with a certified project in a developing country, 61% of respondents stated that they are likely or very likely to purchase a carbon neutral product in the future. 
Consumers feel assured and enlightened by climate-friendly labels 
42% of respondents stated that a climate-friendly label assures them about their purchase. This is most strongly felt in Spain (61%), Italy (52%) and Germany (47%). In addition, almost half of respondents (49%) find that a label clearly shows that a company takes responsibility for climate action.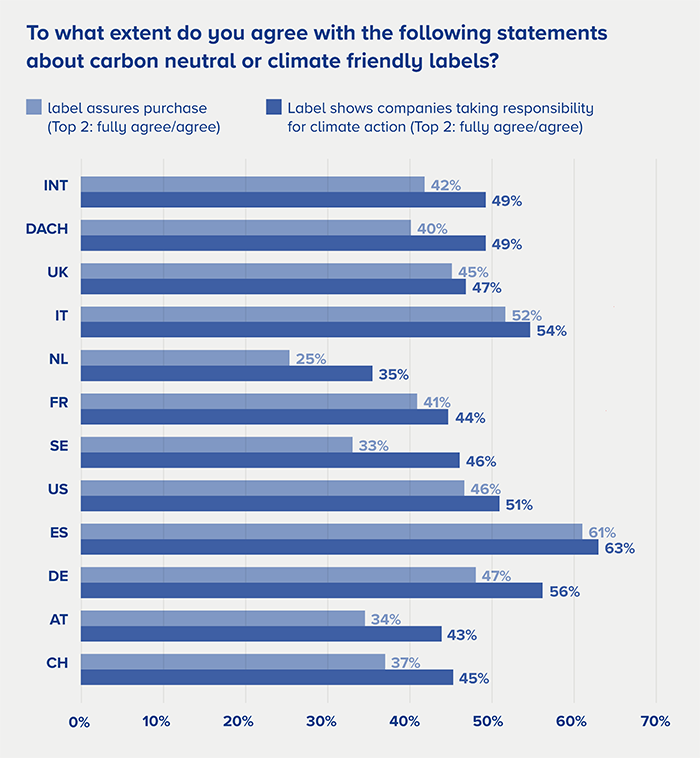 Consumers are asking for transparency on climate action initiatives from companies 
Climate-friendly labels provide shoppers with guidance and are seen as a clear sign that a company takes responsibility for climate action. Therefore, a label should transparently disclose where to find additional information about the climate action measures of a company. Consumers want to support the climate and companies should empower them to do that. 
Connect with us to start your climate action journey. Download our report and contact us today. 
Methodology:
In 2022, the market research institute Appinio conducted a global survey commissioned by ClimatePartner to find out more about consumers' current perceptions and awareness of corporate climate action. The statements in this report are based on the responses of 9,556 consumers aged 14 and upwards in the following countries: the UK, Italy (IT), the Netherlands (NL), France (FR), Sweden (SE), the USA, Spain (ES), Germany (DE), Austria (AT), and Switzerland (CH). The results above refer to international averages (INT) that were calculated including all consumer statements from all countries.