Environmental, Social, & Governance (ESG)
ESG definition
ESG stands for Environmental, Social, and Governance, and is a holistic framework that measures the sustainable and ethical behaviour of a business.  
The criteria ensure that a business is being socially responsible and held accountable, which is in the best interest of shareholders and potential investors.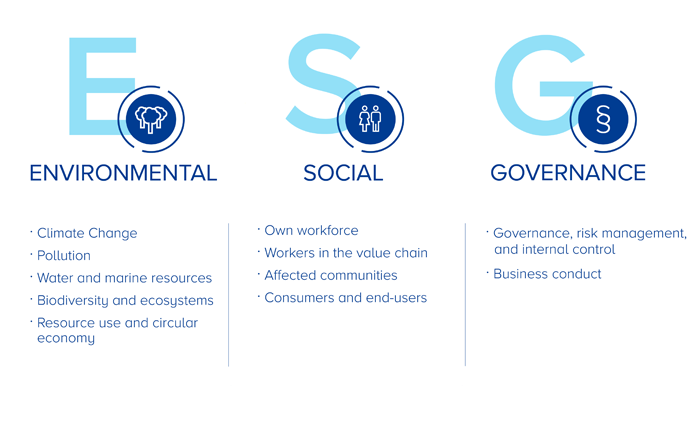 The Environmental component of the framework considers the impact and contribution that a business can have on the natural world, including but not limited to: 
Waste and pollution management 
Resource management 
Greenhouse gas emissions (GHGs) 
Energy efficiency 
Deforestation 
The Social component of the framework assesses how a business treats and protects its employees, suppliers, customers, and the public by considering: 
Diversity, equity, and inclusion 
Working conditions 
Data protection 
Privacy 
Customer satisfaction 
Local communities 
The Governance component of the framework examines how the business policies itself through: 
Tax strategy  
Executive remuneration 
Donations and political lobbying 
Corruption and bribery 
Board diversity and structure
 
---
Keep up to date with climate action

Climate action news and insights
Expert updates on regulations and what they mean for your company
Exclusive invitations to training and events

 

Sign up for newsletter now
---
The importance of having an ESG Strategy  
ESG strategies enable businesses in achieving net zero through driving environmental initiatives. By understanding how a business manages the risks and opportunities that go beyond profitability metrics, investors can assess both the natural and social capital alongside the financial performance. A higher level of transparency is achieved, and investors can feel confident about investing into a business that shares similar values to theirs.
How to measure an ESG Strategy
A business can decide what components of the ESG framework to prioritize, depending on what aspects of the framework are most relevant to their business. Some prevalent frameworks that measure and report ESG include Climate Disclosure Standards Board (CDSB), Global Reporting Initiative (GRI), International Sustainability Standards Board (ISSB) and Carbon Disclosure Project (CDP). The GRI framework, specifically, has been applied by 80% of the largest 250 corporations worldwide to report on universal, topic-specific, and sector standards. ESG reporting and ratings may differ between businesses because of the varying frameworks, meaning that investors must assess the available data to make their investment decisions.
Limitations of ESG
The growing implementation of ESG has been pivotal in the corporate sustainability movement, however, there are limitations to the current framework that limits progress. Success is often rewarded prematurely towards policies and procedures that are being measured, not the performance of how well they are doing. There is opportunity for businesses and investors to 'greenwash,' meaning that to the public, an ESG strategy can seem more effective and thorough than it is. If there was a standard ESG criterion, analysing and understanding the data would be more efficient and the ability to greenwash would be reduced.
Learn more about ESG and visit the ClimatePartner Academy.