What is corporate sustainability?
Corporate sustainability means that a company uses raw materials carefully, operates in a manner that considers the future, and pays attention to fair working conditions.  
Corporate sustainability strategies
To achieve a corporate sustainability strategy, companies set themselves environmental, social, and economic goals. This is known as the sustainability triangle: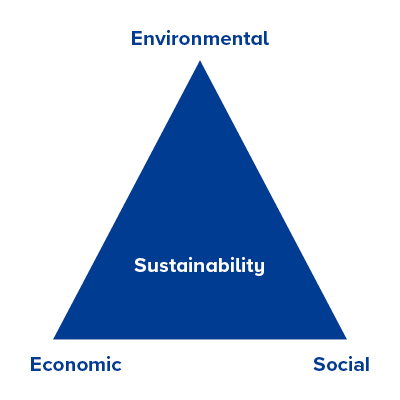 These goals differ as follows:
Environmental goals might include reducing greenhouse gas emissions, protecting biodiversity, or conserving resources.
Social goals are likely to deal with equal rights, humane working conditions in the supply chain, or employee satisfaction.
Economic goals relate to long-term economic activity, focusing not only on maximising profits, but also on social and environmental wellbeing. 
Companies can also contribute to greater sustainability worldwide by working towards the United Nations' 17 Sustainable Development Goals (SDGs).
In addition to setting goals, companies also define measures to achieve these goals in their sustainability strategy. It is important that sustainability issues are closely linked to the core business. A company reports on its progress in sustainability, transparently and comprehensibly, in a sustainability report. From 2024, many companies that operate or have a subsidiary in the European Union (EU) will be required to report on sustainability under the Corporate Sustainability Reporting Directive (CSRD).
Corporate sustainability measures
The first step in becoming an environmentally sustainable business is to calculate your carbon footprint. This is the basis for setting emissions reduction targets and deriving specific reduction measures. Examples include avoiding or reducing waste, switching to renewable energy, reducing business travel, or using lower-emission transport. However, not all measures are easy to implement. In some cases, companies need to adapt production processes to achieve their environmental sustainability goals. Some goals also require the involvement of the supply chain.
Social sustainability is all about improving people's quality of life. The SDGs provide concrete actions to achieve this, such as fighting poverty. In addition to this commitment, companies can contribute to equality, for example by providing childcare or promoting diversity in the workplace.
Economic goals are achieved through the measures taken to achieve environmental and social goals. Only if a company operates in an environmentally and socially sustainable manner will it be able to operate in an economically sustainable manner.
Corporate sustainability examples
Implementing sustainability in business can be overwhelming at first. cosnova shows how it can be done, despite the many challenges. With a strong focus on climate action, the company developed its sustainability strategy in 2015 and has been adhering to and developing it ever since. Taking into account the SBTi requirements, cosnova developed a comprehensive climate action strategy to continuously improve its carbon footprint in the coming years.
The apt Group is another example of a company successfully implementing sustainability. As part of its climate action strategy, the aluminium processing group has set itself the goal of reducing and avoiding carbon emissions. An emissions reduction plan and pathways will help them achieve this goal.
Why is sustainability important for business?
Businesses have a major responsibility to society and the environment. This responsibility is also known as corporate social responsibility (CSR). There is a lot of pressure on companies to operate in a sustainable way, with consumers and investors expecting companies to be committed to sustainability. While consumers want to make informed purchasing decisions, investors want to minimise their investment risk.
All companies included in the scope of the CSRD are required to assess climate-related risks and opportunities. In addition, governments around the world are passing laws requiring companies to become more sustainable (and to report on this). But there are also many benefits to sustainable business practices. Prioritising corporate sustainability can help tap into new, fast-growing sustainable markets, gain a competitive advantage, or reduce costs by using less energy in certain processes.
Take the first step towards making your business more sustainable and learn more about the possibilities with our Climate Action Academy.